These are the 2 Chinese characters our guests see as soon as they enter Asia. It means welcome. "I want Asia's customers to feel like guests dining in my home." It is this sentiment that inspired my husband Alex, the chef/owner of Asia to open his restaurant in a converted house.
We thought we had retired from the restaurant business after we sold our carry-out & catering business in Saucon Valley. It had been a successful endeavor but after 8 years of devoting our entire life to the business, we just needed a change. We sold the business then traveled throughout Asia. The irony of this trip was that our vacation lead to the end our retirement! Tasting all the wonderful Asian cuisines reignited Alex's passion for cooking. He wanted to bring all the different cuisines of Asia back to the Lehigh Valley. Long story short, our retirement from the restaurant business lasted only 2 years. We are celebrating Asia's 8th year anniversary this year!
While Chinese cooking has been Chef's Alex's main career focus, he has managed to incorporate the flavors of countries such as Thailand, Vietnam, Korea and Japan for a diverse and unique menu at Asia. Staying true to his passion of authentic Chinese cooking, Asia boasts an entirely separate menu of real Chinese food. Yes, there is a difference! These are entrees that you would find in Chinatown and in China. This menu highlights cuisine from Sichuan, Hunan, and Canton provinces as well as Northeast China, where Chef Alex was born and raised. But our menu has so many options, we have something to please everyone. If you have dietary preferences or food allergies, Chef Alex will gladly make entrees that are suited to your personal needs. Just let the server or myself know when you are ordering.
My name is May and my job is to make sure the customers have an enjoyable experience when they come to Asia. While great tasting food is important, so is service and atmosphere. I have tried to create a casual, cozy type of feel at Asia. When guests call and ask me what is Asia's dress code, my answer is, "however you feel comfortable." For some that may mean a t-shirt and shorts for others it may be a suit and tie. You will see this range when you dine at Asia. I really enjoy that fact that Asia is a small restaurant. I am able to stop by every table to make sure that our guests are enjoying their food. I like getting to know our customers. That's my passion! If you have questions about the menu or want suggestions on what to order, I'm glad to help.
My husband Alex and I hope you will come visit us at Asia. We are opened Monday through Saturdays, closed on Sundays. We are a BYOB so please bring your favorite bottle. We'll gladly open bottles and provide glasses, no fees! There's plenty of parking. We have a lot in front of Asia and a lot in back of Asia (just turn at the Asia sign) Finally, Asia on Susquehanna Street in Allentown, is our one and only location. We intend to keep it this way because Chef Alex is a perfectionist when it comes to his cooking, he insists on cooking about 90% of Asia's entrees himself. He can only do that if we keep Asia small! We look forward to meeting you real soon!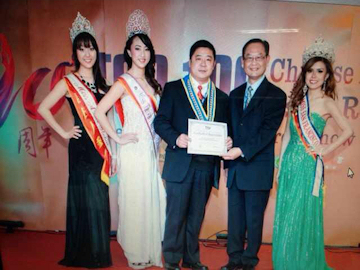 Chef/Owner of Asia receives Top 100 Chinese Restaurants in the US at Awards Ceremony held in San Francisco on January 6, 2014.